For those following the use of Openfire for audio and video communication, The Jitsi project released very recently, the VideoBridge plugin for Openfire. If you use Jitsi with Openfire, you find it very useful for creating both audio and video conferences with multiple people. I am hoping someone will try and make a Spark plugin for it
In the meantime, I did a quick experiment to see if I could convert the Redfire plugin for Spark to use WebRTC instead of RTMP/RTMFP

Guess what!!. It worked
It works the same way as the Redfire plugin for Spark. Click on the webrtc button to share audio and video with the person you are chatting with. On the other side, that person will receive a prompt to accept or reject the offer.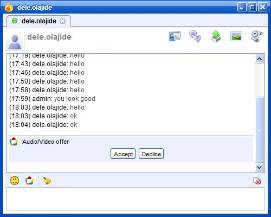 So here it is attached, if you want to play with it. It does not depend on any Openfire plugin, but will use the JingleNodes plugin if available to relay WebRTC audio/video media when a direct connection cannot be made between two Spark clients…
It needs Google Chrome version 26+ running on the client desktop as the default browser. It supports Google Chrome frame for Internet Explorer. The source code is in there as well. When Firexfox WebRTC support becomes stable, I will probably add support for that too.
*** UPDATE ***
I finally got multi-user video conferencing working in group chat like Redfire. Please note that there is no prompt. Each participant MUST click on the webrtc button to join the video conference and the plugin ensures a webrtc peer-connection is made between each and every participant. This should be done after everyone joins the groupchat.

If a new person enters the room and wishes to join the video-conference, each participant should close their browser windows and click on the webrtc button again.
webrtc-plugin.jar (1774804 Bytes)