Hi
I have an issue where we deleted the only admin of the openfire console so we had to edit the openfire xml file and add me as authorised admin and we were then able to login. We can now login to admin console and also spark is working fine. We have one issue but since this happened and it is that chat rooms that are there cannot be entered. The users get the error below.
ERROR: You are not a member of this room, This room requires you to be member to join.
What we have noticed is that all the usernames have now been changed from @derryweb to @ukwebserver now. See attached screen shot of properties on the server screen. As you can see the server name under server properties is now ukwebserver but I am not sure what it was in the past but I suspect it was derryweb. I am reluctant to change this before I get some advice on here as this server is critical for communications and used 23 hours a day.
Is it just a matter of changing this back to derryweb and everyone should be able to log in again?
I have been able to read users again to existing chat rooms but as I say they show now as username@ukwebserver. I am just afraid if I change the server name or that I will get locked out of admin console.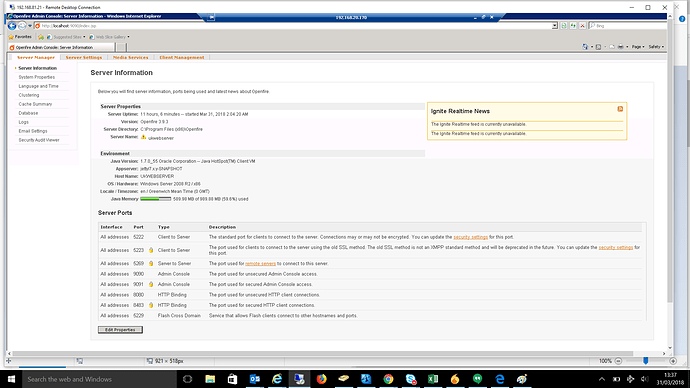 Any help much appreciated.