when spark reload, the group name show in correct way, the name become ???,
openfire version: 3.6.4
JavaProject1.jar (32239 Bytes)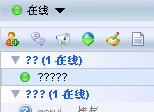 addition info: it not occur immediately, chinese group name and alias become "???" always on the next day.
it cause by mysql table charset settings, change from latin1 to utf8, this problem is solved.