Hi,
I'm still having troubles loading multiple MUC rooms. I've decided to try my hand with loading them using the MUC plugin (or is it the Client Service plugin?). I've only managed to get one loaded. We use Active directory groups. Of the 3 test bookmarks I've created, only the it_chat@conference.test.com seems to work. I'm not immediately sure why.
I've got it set up like this: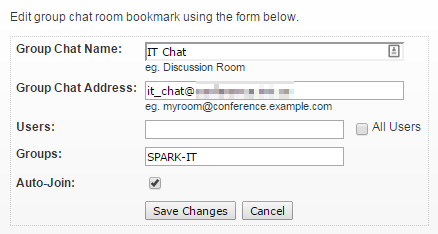 Now, what I don't understand is why, if I'm a member of the AD group, SPARK-IT, will the IT Chat room load properly and the Dev Chat room (which I am also a member of) does not. Is it not possible to load more than one room through here?
Michael