Hi,
Is there any option or plugin to display user idle time in spark client roster.
Regards
Suresh
Well, there is no option or plugin to show idle time in the roster itself. You can only check it by looking into "View last activity" menu of a particular selected contact (found in the right-click context menu of a contact).
Hi,
I dont have an view last activity option in that menu.
Regards
Suresh
It is only shown for Away or Offline users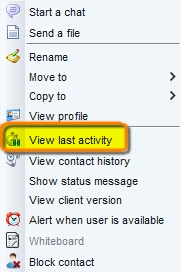 but for me its not showing. i am using spark 2.6.3 version.
is any settings i have to do in openfire server.
fyr. i attached the screen shot.