by @A_Li_N
I didn't find any program out there that suited my needs for a log reader to read the server audit logs, so I made one. I thought I'd share my work for anyone that might find it usefull.
Very simple to use:
Click on Open Log, browse to the log files from the server.
This populates the names on the left.
Click one of the names to show the messages to and from that person on the right.
Click a particular message on the right to show the entire message (if it is longer than visible) at the bottom.
No need to convert or edit the logs.
No need to know how many / what users there are.
Fast and simple.
Updates:
2009/08/14 - Fixed error when file didn't close out Jive tag (believe this happens from taking log still being written to by server), thanks wr00t.
2012/10/24 - @Seth Randall made some improvements. Thanks! File attached
2013/04/04 - Joshua Cantara - Fixed a bug resulting from when a user messages themself.
2013/04/29 - Seth Randall - New version that fixes the bug Joshua found. Now it will log the message appropriately without teminating the import.
2013/11/21 - Seth Randall - Release 1.2.0.0 - see below for changes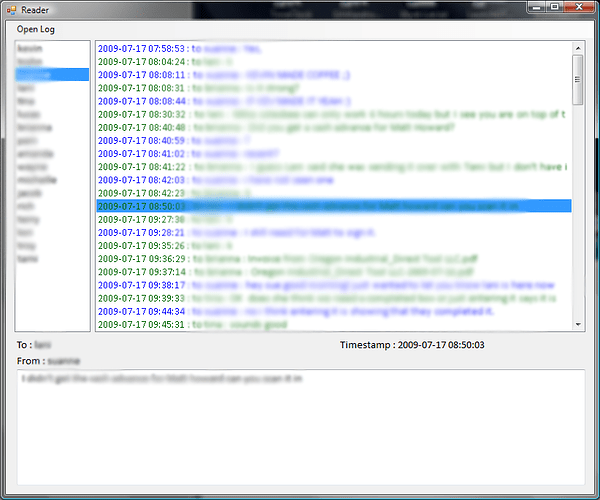 OpenfireLogReader - 20090814-094758.zip
(148525 Bytes)
OpenfireLogReader-sethrandall-2012-10-24.zip
(381045 Bytes)
OpenfireLogReader_2013-04-04.zip
(208900 Bytes)
OpenfireLogReader-sethrandall-2013-04-29.zip
(377160 Bytes)
OpenfireLogReader-sethrandall-2013-11-21.zip
(397856 Bytes)