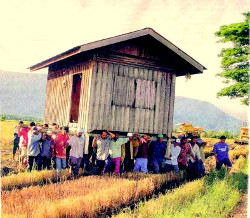 Please be aware that over the next few days, the IgniteRealtime community will be moved to new server environment. As a result, new IP addresses will be used for the XMPP domain, this website and the Atlassian stack (JIRA, Bamboo et al). The community forum (everything under the "community" tab of the website) is not affected by the migration.
We plan to move gradually, a few services at a time. The migration will start in the coming few days, and will continue for some days to come. You can expect some downtime, but that should be limited. Watch this space for updates!
So, why are we moving in the first place? I've addressed this previously in a thread on the community, from which I'll cross-post the more interesting bits here.
Jive Software has expressed their intention to reduce the sponsoring of the hosting of this community. What will be discontinued specifically is all of the Contegix-based hosting, which includes the servers that run the igniterealtime.org website, our Atlassian stack (Bamboo, JIRA), our XMPP domain, and related tooling. The forum functionality that you're using to read this message is based on the Jive cloud, which is different from the Contegix-based hosting. Jive Software has expressed that we're welcome to continue to make use the Jive cloud-based solution for the foreseeable future.
After Jive established the community back in 2006, they continued to put in a lot of effort to maintain and support both the people and software. On top of that, they've been incredibly generous in regards to spending money on development and hosting - looking for suitable replacement for the hosting of this community has made us more aware of exactly how generous, too! But we accept that over time, Jive's business has moved away from XMPP and Instant Messaging. Most of our contacts within the company have also moved on by now, which resulted in where we are today - pretty much distinct entities. It's no wonder that Jive re-evaluated their support. We are extremely grateful for all of the time, effort, and money that we received from them in the past. Jive is also actively working to end our cooperation well, offering support and even donation of the existing hardware, as well as plenty of notice. Kudos.
After Jive expressed their intentions, we've been actively searching for a new home for our community. We have had some great offers, more than we would have imagined (thank you!). We eventually decided to accept the generous offer from @John Atherton, of Surevine Ltd, who have offered to help us by hosting our entire environment in Amazon, as well as support us during and after the migration. I am inviting Surevine to write a posting here to further introduce themselves.
As for the migration: over the past few weeks, several of us (both in the community and within Surevine) have been putting in quite some time to prepare for everything. An important part of the move is rebuilding infrastructure that was put in place over a decade ago. This has been an interesting exercise in spelunking… We've had to make some adjustments left and right, but we feel that we're good to go. Still, we'd like to ask you to be on the lookout for missing functionality. Although we're trying to cover all bases, a lot of nuts and bolts were added over the last few years. We will have missed one or two, or we might have believed some to be non-important while they were not. Feel free to pop into the community chat or leave a message here if you think we missed something!
Thanks for your patience while we move IgniteRealtime to its new home.