Hello everyone,
We've been using two Spark clients (Debian & Windows) and an Openfire server without issues so far. We recently started adding self-signed certificates to our XMPP configuration, but met an issue regarding the Windows client. Here are some details :
I am trying to use Spark 2.9.0 (released today) to connect to my Openfire server. I have generated a self-signed CA, which I used to generate another certificate for my Openfire server, and imported them both in Openfire.
From the same CA, I have also generated two certificates for my Spark clients (I use a Windows 2.9.0 jre-bundled version, and a Debian 2.9.0-SNAPSHOT version which we built from sources a few months ago when 2.9.0 wasn't released yet).
On the Debian client, I imported my client certificate in the "Mutual auth" tab, and everything seems to be working as expected : on the first connection, I am prompted to add my Openfire server's certificate to the Spark truststore, which worked fine. I can then connect once again successfully and chat with other users.
My issue is regarding the Windows client. I applied the same steps as I did on the Debian client, however when I finally connect after adding the server's cert to the truststore, the Spark window is completely blank and empty (see screenshot :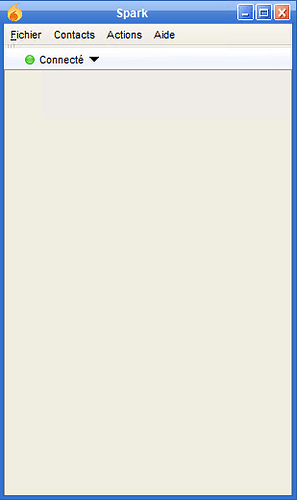 ). On a side-note, I had also tried this with a 2.9.0-SNAPSHOT Windows version built from the same sources as the Debian version. I tried this new 2.9.0 release today to check if the issue remained.
I went ahead and started it using the startup.bat script and a -debug flag to get some logs : log.txt (20,4 Ko). There is a bunch of exceptions but all regarding UI classes, so I'm not really sure where to look to debug.
I don't think my certificates generation is the issue since the Debian client works fine, so I'm creating this post to get some help from the community.
Thanks for reading