My environment
Openfire 4.1.6 on Windows Server 2016 Standard
Spark 2.8.3 on Windows 7
server and clients are in the same local network
I follow instructions from Enabling Call button in Spark 2.6.0 (and above) with no luck.
My Openfire STUN settings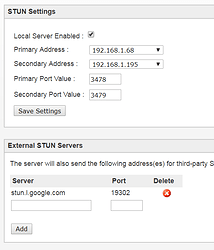 I configure STUN fallback server in spark media settings to
STUN Server = 192.168.1.68
STUN Port = 3478
Then I run two instances of Spark on same machine and try to call from one to another, but could not see Call button
I also try to call from spark on my machine to spark on another machine with STUN fallback server configured, but with the same result.
How could I debug Jingle plugin?
Any help would be appreciated.