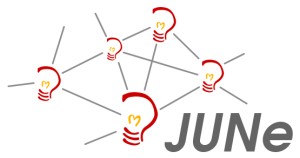 The Jabber University Network, short JUNe, is an open network of universities that run an Jabber server for students and/or employees. Aim of this network is to show how widespread Jabber already is. Also it wants to motivate students of other universities to run their own server.
Each university which runs an Jabber server can join our network. The server does not necessarily need to be an official one. It is sufficient, if the server is non-commercial, maintained by students or employees and the primary target group is affiliated with that university.
For members we offer our extensive Jabber documentation in German language under an Creative Commons License.
Currently we are 18 universities from Germany and Austria. For this reason our website and documentation is in German language at the moment. But in long term we want to get international.
If you want to join us, please contact the Jabber team of RWTH Aachen university. If you want to link on us, please use one of the logos provided on our website.