After working with the JitMeet application developed by Philipp Hancke and the Jitsi Team for a few weeks now, I have elected to make some changes to make it more tightly integrated with Openfire and solve some issues I have with it. The result of these changes is OfMeet (Openfire Meeting). It looks exactly the same as Jitmeet and uses Jitsi-Videobridge, but has some fundamental changes.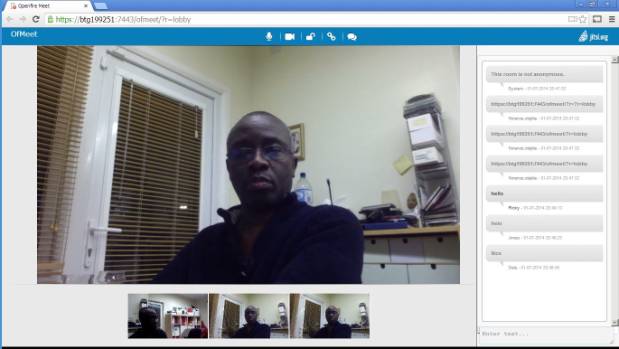 First change was moving the colibri focus agent role from client-side Javascript to Server-side Java code in the Jitsi-videobridge plugin for Openfire. For more details about the focus agent, please read the colibri XEP specification. Making this change now removes the issue of the whole conferencing collapsing when the focus agent peer client application fails or leaves the conference.
Second change was to replace the jingle peer-to-peer signalling with rayo third-party signalling. I use jingle in my applications for simple one-to-one video/audio chats and I was experiencing conflicts with the jingle namespace being used in a different context. As I had moved the focus agent to the Openfire server, it made sense to change the protocol from first party call control to third party call control. I appreciate it will break compatibility with the Jitsi desktop client, but in practice when I tested Jitsi client with JitMeet, I found the user exprience very confusing. I could not tell the difference between a normal jingle call and an invitation to join a videobridge.
Third change was a few cosmetic modifications, adding very basic support for Spark (requires Chrome as default browser) and Openfire websockets (Jetty websockets) which is faster and more reliable that http-bind.
Most people will invariably put Jitsi-Videobridge on a separate or same server as an external component to their Openfire server and the Jitsi JitMeet application on a web server. This will work as designed and intended by the Jitsi Team and Philipp Hancke.
If you however want the whole solution from a single Openfire server, just using Spark and Google Chrome as clients, then the Jitsi-videobridge plugin with OfMeet and the Jitsi videobridge plugin for Spark is for you.

You however have to wait for Openfire 3.9.0 to be released