Dear Community,
i have the follow problems with Spark.
I would like to add the possibility to search over Department, Phone or City but somehow this is not working over Spark. Interesting here that over the Openfire admin console is working without any problem. Over Spark is working only with Name and Mail, and every additional option will be displayed like this and the Search function it totally without functionality. I need to turn off the additional search option if i want the search to work over the client . The server is connected to LDAP (Windows Domain)
You can find with GREENwhat i mean.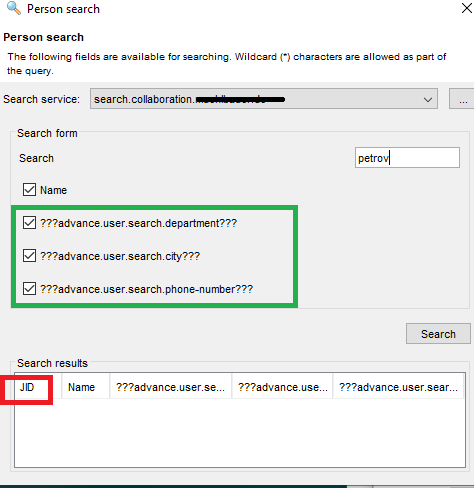 Here is what is set
Property Name: ldap.searchFields
Property Value: Name/cn,Department/department,City/l,Phone-Number/telephoneNumber
Property Name: ldap.searchFilter
Property Value: (&(objectClass=organizationalPerson)(mail=*))
How can i remove the JID from the search Option or just to moved to the last dispaly place?
you can see marked with RED
OpenFire Ver - 4.4.3
Spark Ver - 2.8.3
Thank You
Regards
Yordan