Hi!
Thank you for sharing your file. This is such a great help!
Pet
Changelog 25-04-2012
Translated key: 'Automatically invite users to bookmarked room'
Changed 'przedmioty' na 'elementy' we wtyczce prywatności
Changed 'Nieprzezroczystość na Przezroczystość'
spark_i18n_pl.properties.zip (15142 Bytes)
OTR enables two users to create an encrypted chat session which can't be recorded/intercepted. E.g. Archiving plugin would log such chat, but it would be unreadable. That's why it is called "off the record". I had trouble translating this too… Added you files to the ticket.
Where I can find:
File transfer Panel and Codecs Panel to translate it?
Codecs are in the sip translation file. File transfer is in the main spark translation file.
'File transfer is in the main spark translation file' - which sentences discribing this plugin in main spark translation file?
spark_i18n_pl.properties - is this one?
And where is this 'sip translation file'? I could't find it
Transfer Guard on the screenshot sorry.
I found sip - codecs file but Transfer Guard Panel in Preferences Spark still could't find, please help me.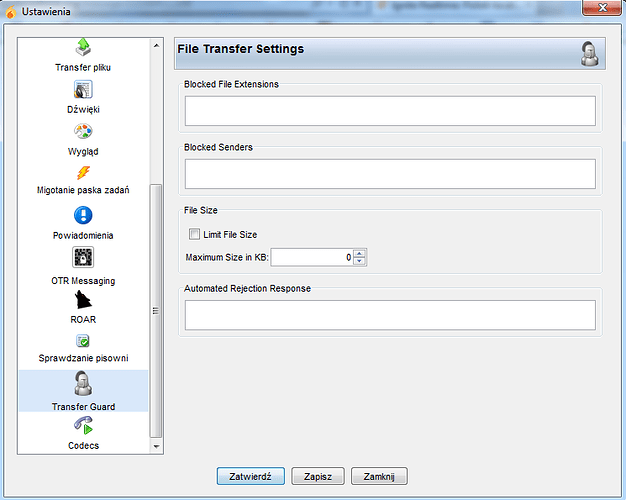 It is hardcoded. I have filed a ticket SPARK-1493
Translating sip file but I've got problem with 3 strings:
phone.placecallto = Placed call to
phone.placecall = Place phone call.
phone.tips.hold = Place this call on Hold
Could You describe a little bit what does it mean?
You tell me I haven't used SIP myself so i can't say i have made a 100% correct translations. And since it is already in English it would be hard to explain further.
Placed call to - i take it as indication of a call you have already made and/or currently having. A phone call was made to (person). E.g. "Placed call to Marcin". Maybe i'm wrong, but it is in past time, so i have decided to interpret this way.
Place phone call - is on the other hand an action you can do, probably a button like "Make a call", maybe it is a context menu entry when you right click a contact or something.
Place this call on Hold - make a break, a pause. You know how you can pause one call on a cellphone to take another incoming call and then get back to the first call.
18-05-2012 for revision 13064 - #566
translated new string:
checkbox.click.single.tray = Use single click in system tray to bring spark to front
Please add this into trunk!
Why polish language for spellcheck wasn't added into Spark yet?
Ticket SPARK-1434
spark_i18n_pl.properties.zip (13671 Bytes)
Actually it's SPARK-1491. I have added the updated file and asked about the spellchecker.
Oh, it looks i've misunderstood you. I have told Tim about that other ticket. Maybe he will apply it.