The environment is setup to test between two OMEMO devices. The comments below reflect the actual observations under below uncommon test conditions; hopefully to have better understanding of OMEMO operation and for general discussion.
Device A: Note-10; swordfish@atalk.sytes.net:1245216054


2. Device B: avd-28: parrot@atalk.sytes.net:899121650


Device B database actually contains an invalid fingerprint of Device A i.e.:
7ab3fae4 268332bf 26f7503d 9caa5c8f 5ce40a8d 64a4d2bd e6817b97 ac7d3038
When an OMEMO message is sent from B to A, A throws below exception i.e.
InvalidMessageException and InvalidProtocolBufferException
The exception is captured in the first debug log. It seems that Device A is trying to perform a session repair but the above exceptions happen instead.
Is this a correct operation?
=================
When an OMEMO message is sent from Device A to B, A pop up a dialog for user authentication of un-trusted devies. However the offered fingerprint for parrot@atalk.sytes.net:899121650 is incorrect as shown below. Not sure why an incorrect fingerprint is being shown, and where does Omemo retrieves this fingerprint from?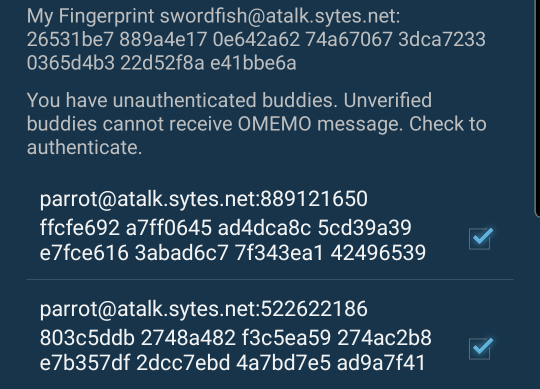 So the last user action does not solve any problem. The major problem is that, except for last prompt, everything is happen behind the scene. There is no indication to the user nor prompt user to take action; both devices are now locked in a state, exchanging of OMEMO messages are not further possible and users are unaware of this.
=========== aTalk debug log Device A when Omemo is sent from B to A: ===========
<message xml:lang='en-US' to='swordfish@atalk.sytes.net/atalk' from='parrot@atalk.sytes.net/atalk' type='chat' id='1604619671581218635440'>
      <encrypted xmlns='eu.siacs.conversations.axolotl'>
        <header sid='889121650'>
          <key prekey='true' rid='1245216054'>
            MwgREiEFreBH/19FDml4XqMsLRiZfAVFQzfLw2ltpjBvszh/dW4aIQX/z+aSp/8GRa1Nyoxc05o55/zmFjq61sd/ND6hQkllOSJiMwohBeS6ORV9y+DWepfTx9uEfB3/N1BZG49NN4Ua1ZrQUYULEBsYACIwi0aadJ6ELkCRn9OXTBeBEoNlfKuZdDlPFYpJHhE82q+A9M0iCYLWNvMacbHkrNi+qJTjZriHbr4oADAB
          </key>
          <key prekey='true' rid='1566361092'>
            Mwg/EiEFBlcQ3cdASXgNL3/NQPy4wteFHkBYVz1vUHL5FOMd3n0aIQV8IPoxhhEu2RedUV73jbhtdHFtml2PkilCxyvOJcWwKiJiMwohBTLgrW2TrL+CrMzaSPSpNRvI6U3CgnOseMsGkdE0J0o7EBMYACIw7fYxQ0mu8lw9Z94ytz2u2aTathsh7xq73FJD0O/BM7fnDftngFAXrN9KhLxt4nYZZeurrZKaiSMoADAB
          </key>
          <key rid='522622186'>
            MwohBaMY0H3aOaGRNmtJdSaR1Z3kNy/ko+agaW+fObN0ML8aEAIYACIwlnL58jeGaoH9yK0dx+bnaxosTG2AD2qsGDaWNKd/b9sD5Jm8wjSoqMjrydFT9G8HrgTQ8l4fxo4=
          </key>
          <iv>
            Dt2rDIhl9+cS5j5B
          </iv>
        </header>
        <payload>
          A8wLrM4+
        </payload>
      </encrypted>
      <store xmlns='urn:xmpp:hints'/>
      <encryption xmlns='urn:xmpp:eme:0' namespace='eu.siacs.conversations.axolotl' name='OMEMO'/>
      <active xmlns='http://jabber.org/protocol/chatstates'/>
      <origin-id xmlns='urn:xmpp:sid:0' id='4338-X3MZ-F5N5-B'/>
      <request xmlns='urn:xmpp:receipts'/>
      <body>
        I sent you an OMEMO encrypted message but your client doesn&apos;t seem to support that. Find more information on https://conversations.im/omemo
      </body>
    </message>
2020-11-06 07:41:21.479 30292-31116/org.atalk.android W/aTalk: [194885] org.jivesoftware.smackx.omemo.OmemoService.onOmemoMessageStanzaReceived() No raw session found for contact parrot@atalk.sytes.net:889121650. 
    org.jivesoftware.smackx.omemo.exceptions.NoRawSessionException: org.whispersystems.libsignal.InvalidMessageException: com.google.protobuf.InvalidProtocolBufferException: While parsing a protocol message, the input ended unexpectedly in the middle of a field.  This could mean either than the input has been truncated or that an embedded message misreported its own length.
        at org.jivesoftware.smackx.omemo.signal.SignalOmemoRatchet.doubleRatchetDecrypt(SignalOmemoRatchet.java:128)
        at org.jivesoftware.smackx.omemo.OmemoRatchet.retrieveMessageKeyAndAuthTag(OmemoRatchet.java:107)
        at org.jivesoftware.smackx.omemo.OmemoService.decryptMessage(OmemoService.java:457)
        at org.jivesoftware.smackx.omemo.OmemoService.onOmemoMessageStanzaReceived(OmemoService.java:1192)
        at org.jivesoftware.smackx.omemo.OmemoManager$3.run(OmemoManager.java:959)
        at java.lang.Thread.run(Thread.java:919)
     Caused by: org.whispersystems.libsignal.InvalidMessageException: com.google.protobuf.InvalidProtocolBufferException: While parsing a protocol message, the input ended unexpectedly in the middle of a field.  This could mean either than the input has been truncated or that an embedded message misreported its own length.
        at org.whispersystems.libsignal.protocol.SignalMessage.<init>(SignalMessage.java:68)
        at org.jivesoftware.smackx.omemo.signal.SignalOmemoRatchet.doubleRatchetDecrypt(SignalOmemoRatchet.java:121)
        at org.jivesoftware.smackx.omemo.OmemoRatchet.retrieveMessageKeyAndAuthTag(OmemoRatchet.java:107) 
        at org.jivesoftware.smackx.omemo.OmemoService.decryptMessage(OmemoService.java:457) 
        at org.jivesoftware.smackx.omemo.OmemoService.onOmemoMessageStanzaReceived(OmemoService.java:1192) 
        at org.jivesoftware.smackx.omemo.OmemoManager$3.run(OmemoManager.java:959) 
        at java.lang.Thread.run(Thread.java:919) 
     Caused by: com.google.protobuf.InvalidProtocolBufferException: While parsing a protocol message, the input ended unexpectedly in the middle of a field.  This could mean either than the input has been truncated or that an embedded message misreported its own length.
        at com.google.protobuf.CodedInputStream.readRawBytes(CodedInputStream.java:789)
        at com.google.protobuf.CodedInputStream.readBytes(CodedInputStream.java:329)
        at org.whispersystems.libsignal.protocol.SignalProtos$SignalMessage.<init>(SignalProtos.java:122)
        at org.whispersystems.libsignal.protocol.SignalProtos$SignalMessage.<init>(SignalProtos.java:57)
        at org.whispersystems.libsignal.protocol.SignalProtos$SignalMessage$1.parsePartialFrom(SignalProtos.java:155)
        at org.whispersystems.libsignal.protocol.SignalProtos$SignalMessage$1.parsePartialFrom(SignalProtos.java:150)
        at com.google.protobuf.AbstractParser.parsePartialFrom(AbstractParser.java:141)
        at com.google.protobuf.AbstractParser.parseFrom(AbstractParser.java:176)
        at com.google.protobuf.AbstractParser.parseFrom(AbstractParser.java:188)
        at com.google.protobuf.AbstractParser.parseFrom(AbstractParser.java:193)
        at com.google.protobuf.AbstractParser.parseFrom(AbstractParser.java:49)
        at org.whispersystems.libsignal.protocol.SignalProtos$SignalMessage.parseFrom(SignalProtos.java:309)
        at org.whispersystems.libsignal.protocol.SignalMessage.<init>(SignalMessage.java:52)
        at org.jivesoftware.smackx.omemo.signal.SignalOmemoRatchet.doubleRatchetDecrypt(SignalOmemoRatchet.java:121) 
        at org.jivesoftware.smackx.omemo.OmemoRatchet.retrieveMessageKeyAndAuthTag(OmemoRatchet.java:107) 
        at org.jivesoftware.smackx.omemo.OmemoService.decryptMessage(OmemoService.java:457) 
        at org.jivesoftware.smackx.omemo.OmemoService.onOmemoMessageStanzaReceived(OmemoService.java:1192) 
        at org.jivesoftware.smackx.omemo.OmemoManager$3.run(OmemoManager.java:959) 
        at java.lang.Thread.run(Thread.java:919) 
2020-11-06 07:41:21.482 30292-31116/org.atalk.android W/aTalk: [194885] org.jivesoftware.smackx.omemo.OmemoService.repairBrokenSessionWithPreKeyMessage() Attempt to repair the session by sending a fresh preKey message to parrot@atalk.sytes.net:889121650
2020-11-06 07:41:21.488 30292-30911/org.atalk.android D/SMACK: SENT (0): 
    <iq to='parrot@atalk.sytes.net' id='E2UAY-9' type='get'>
      <query xmlns='http://jabber.org/protocol/disco#info' node='eu.siacs.conversations.axolotl.bundles:889121650'>
      </query>
    </iq>
2020-11-06 07:41:21.525 30292-30912/org.atalk.android D/SMACK: RECV (0): 
    <iq xml:lang='en' to='swordfish@atalk.sytes.net/atalk' from='parrot@atalk.sytes.net' type='result' id='E2UAY-9'>
      <query node='eu.siacs.conversations.axolotl.bundles:889121650' xmlns='http://jabber.org/protocol/disco#info'>
        <identity type='pep' category='pubsub'/>
        <identity type='leaf' category='pubsub'/>
        <identity type='registered' category='account'/>
        <feature var='http://jabber.org/protocol/pubsub'/>
        <feature var='http://jabber.org/protocol/rsm'/>
        <feature var='http://jabber.org/protocol/pubsub#create-nodes'/>
        <feature var='http://jabber.org/protocol/pubsub#auto-create'/>
        <feature var='http://jabber.org/protocol/pubsub#auto-subscribe'/>
        <feature var='http://jabber.org/protocol/pubsub#delete-nodes'/>
        <feature var='http://jabber.org/protocol/pubsub#delete-items'/>
        <feature var='http://jabber.org/protocol/pubsub#filtered-notifications'/>
        <feature var='http://jabber.org/protocol/pubsub#modify-affiliations'/>
        <feature var='http://jabber.org/protocol/pubsub#outcast-affiliation'/>
        <feature var='http://jabber.org/protocol/pubsub#persistent-items'/>
        <feature var='http://jabber.org/protocol/pubsub#publish'/>
        <feature var='http://jabber.org/protocol/pubsub#publish-options'/>
        <feature var='http://jabber.org/protocol/pubsub#purge-nodes'/>
        <feature var='http://jabber.org/protocol/pubsub#retract-items'/>
        <feature var='http://jabber.org/protocol/pubsub#retrieve-affiliations'/>
        <feature var='http://jabber.org/protocol/pubsub#retrieve-items'/>
        <feature var='http://jabber.org/protocol/pubsub#retrieve-subscriptions'/>
        <feature var='http://jabber.org/protocol/pubsub#subscribe'/>
      </query>
    </iq>
2020-11-06 07:41:21.542 30292-30911/org.atalk.android D/SMACK: SENT (0): 
    <iq to='parrot@atalk.sytes.net' id='HNNNE-22' type='get'>
      <pubsub xmlns='http://jabber.org/protocol/pubsub'>
        <items node='eu.siacs.conversations.axolotl.bundles:889121650'/>
      </pubsub>
    </iq>
2020-11-06 07:41:21.581 30292-30912/org.atalk.android D/SMACK: RECV (0): 
    <iq xml:lang='en' to='swordfish@atalk.sytes.net/atalk' from='parrot@atalk.sytes.net' type='result' id='HNNNE-22'>
      <pubsub xmlns='http://jabber.org/protocol/pubsub'>
        <items node='eu.siacs.conversations.axolotl.bundles:889121650'>
          <item id='64497452CEF2B'>
            <bundle xmlns='eu.siacs.conversations.axolotl'>
              <signedPreKeyPublic signedPreKeyId='1'>
                BYQb6AIps6HzJiq9ljYmf5XcFwLotvhSMsTZLqpzH9x4
              </signedPreKeyPublic>
              <signedPreKeySignature>
                1TNkyos9Ck4Qm4OvVFnMqZcInKxtlWp6HiLhM00kxk/M3ip9w2uEUxxlU8VCLDG6nlYVmbF/upDFPDv194PjCQ==
              </signedPreKeySignature>
              <identityKey>
                BSt7+r9UoN/jnWdN6IH6Zh4KoKqWjnEHs5nk8Wa0/ahs
              </identityKey>
              <prekeys>
                <preKeyPublic preKeyId='1'>
                  BQocLHV+XBat8Uj+0JGuH4noOqzmfXFQB6HD7vkXHuh3
                </preKeyPublic>
                <preKeyPublic preKeyId='2'>
                  BYUUiGsj1j2qUI38YN/Fy2Lao6FNF+67p9AzTjfCHJNn
                </preKeyPublic>
                <preKeyPublic preKeyId='3'>
                  BU7BMT2qCNLTwd8NjAzgCK3/qUKgs/1eJKfr3N7ReMJB
                </preKeyPublic>
                <preKeyPublic preKeyId='4'>
                  BQBW+pXekT8B2gCSAsaAvEVGcSBxGdcvZ+IzsDnCulMP
                </preKeyPublic>
                <preKeyPublic preKeyId='5'>
                  BfiARafKI2QUWkC8TMxbrL5XOom2IhNO76FgtjjQEd1u
                </preKeyPublic>
                <preKeyPublic preKeyId='6'>
                  BZw2dDy9QR+rCFQhEA2ow3kxUStGFSrhODeE0I/S2a04
                </preKeyPublic>
                <preKeyPublic preKeyId='7'>
                  BeX/Jpx1ORydiH0Q6Vp6H6IbNw77s3JQ1wv+gHZvlnZY
                </preKeyPublic>
                <preKeyPublic preKeyId='8'>
                  BXt/4CO6byRAqSDOlUp/11sEst8qejF7wxPtw1a8pLIw
                </preKeyPublic>
                <preKeyPublic preKeyId='9'>
                  BQyj+DLqZ5dCJjq6j3+cM92VA7txP1ChKujzPN9w4xZn
                </preKeyPublic>
                <preKeyPublic preKeyId='10'>
                  BQIf2YQ4MNo9VU8DU5iiYVJ/RVRl1TKgWw1lHts6lT9j
                </preKeyPublic>
                <preKeyPublic preKeyId='11'>
                  BabEFX59l3Z1tQf7P3hBy5yk0Ysct/cFmltOgp6fAwpQ
                </preKeyPublic>
                <preKeyPublic preKeyId='12'>
                  BbLy72AvTPQ4BSzrLAWqGiMW9oG6GG1xXyBaE6Nzs9o/
                </preKeyPublic>
                <preKeyPublic preKeyId='13'>
                  BWUmTr755ukflxflZMRgAdqHASuNgfw8YuoLTULR4zZJ
                </preKeyPublic>
                <preKeyPublic preKeyId='14'>
                  BZLSvZ0qhtu8KKR1PlHWsqV7bWNMmACSz5BNeSk5XB87
                </preKeyPublic>
                <preKeyPublic preKeyId='15'>
                  BZymUH/MIgbNhJ//GdFmz8tQTifrvOkGiVCEWkNUpVtD
                </preKeyPublic>
                <preKeyPublic preKeyId='16'>
                  Bf4PD3fYFySdlTbAy79YBavLdG58WWdKuVf6fmo5WyEO
                </preKeyPublic>
                <preKeyPublic preKeyId='17'>
                  BY4jEjoWCoMvfqcds+7T6G/2v3723n8qbg4eSgxmxhsC
                </preKeyPublic>
                <preKeyPublic preKeyId='18'>
                  BZv7p0Mi0qb8BFCOiDIiubk6iuAjjQHmLeOGPC54zYpq
                </preKeyPublic>
                <preKeyPublic preKeyId='19'>
                  BbJOIJ4mAygIvXnMe2/viKwX25IQBzvWkbHquy1/D0ps
                </preKeyPublic>
                <preKeyPublic preKeyId='20'>
                  BQOhHdBHfNpOg+x1OyQqDjTJUH+IWoXblRHugSP6Tooe
                </preKeyPublic>
                <preKeyPublic preKeyId='21'>
                  BfhtcK+Nv990ts4zia3gj3/FaSJa90Y2+Q2/Rb/NA0Fb
                </preKeyPublic>
                <preKeyPublic preKeyId='22'>
                  BQZ0ACrZgEx1Iax+GiuXp1w9CAECCibDKHCNY6+OZYcB
                </preKeyPublic>
                <preKeyPublic preKeyId='23'>
                  BRrRHUWyZk3tyJ2qv5zQwSsTeCdfUfl0jY4GayMs4PY+
                </preKeyPublic>
                <preKeyPublic preKeyId='24'>
                  Ba6XOxG5ptY4MjhfENJEqDyXe6EFSu1dAX2gJMI2WVI+
                </preKeyPublic>
                <preKeyPublic preKeyId='25'>
                  Bdhs4kgqZhfPrR6QJSWZgEoNysPr79UNT15QQ3OegBJ4
                </preKeyPublic>
                <preKeyPublic preKeyId='26'>
                  BZShM7IjpzUi3UXS62aHfiDJ9KbCdTQ+UUgeKkD+vwxU
2020-11-06 07:41:21.601 30292-30912/org.atalk.android D/SMACK: RECV (0): reKeyId='88'>
                  BWjukBLrtwTmligLdbRAI4kuLQleGyAGGaUwbf1pCsQF
                </preKeyPublic>
                <preKeyPublic preKeyId='89'>
                  BZaORCmmZiuhPaG7pP5ThPjgm5cJDYLXetfcCE3VXf5D
                </preKeyPublic>
                <preKeyPublic preKeyId='90'>
                  BXL4TEY99vpFaGN4WM0qmwMuRArQ9VRvqMA9PaCqfzQT
                </preKeyPublic>
                <preKeyPublic preKeyId='91'>
                  BRj+kR91YjN8KAXLUsS+uanl2bdaF9c8bqmYBuKnYq9M
                </preKeyPublic>
                <preKeyPublic preKeyId='92'>
                  BbhAgIh/g/we7q5CWKaLBfqNKTp1PZcAA+FEXzdA9UpR
                </preKeyPublic>
                <preKeyPublic preKeyId='93'>
                  BfybWQomE0jFw5Y+fuSkMqi9SZxWxD8Kipn48OD6rrsP
                </preKeyPublic>
                <preKeyPublic preKeyId='94'>
                  Ba0mKQ3dMNJIvGq1Bk6jdi7YMNU6rdyAUaUsMgw6G3gL
                </preKeyPublic>
                <preKeyPublic preKeyId='95'>
                  BZWFSLEJLHTTe+5tpEKVD3BsbLT5wXQuz03nWOB2ReUV
                </preKeyPublic>
                <preKeyPublic preKeyId='96'>
                  BfBONyVlZN04ggjyB4x0AADQVXqg/bq6rLdF60W2DgIN
                </preKeyPublic>
                <preKeyPublic preKeyId='97'>
                  BaiS1mbdS9FWdPgvRN8EnFVTTpG6A7SjCkqIEcVLpyke
                </preKeyPublic>
                <preKeyPublic preKeyId='98'>
                  Bfr6HDsjfKC8qUWD/0P7/8jzaNhe3Gsneu7zdFWuzbIW
                </preKeyPublic>
                <preKeyPublic preKeyId='99'>
                  Bb7JGDiCVwsriwPd34jZj7lN68T2RV4sbgFdaamPaDEe
                </preKeyPublic>
                <preKeyPublic preKeyId='100'>
                  BV9fi5ZyxjbyZgUnZKx9YlHsgsn1DBI56/Hi9Uq5VOgl
                </preKeyPublic>
              </prekeys>
            </bundle>
          </item>
        </items>
      </pubsub>
    </iq>
2020-11-06 07:41:22.410 30292-31116/org.atalk.android W/aTalk: [194885] org.jivesoftware.smackx.omemo.OmemoService.repairBrokenSessionWithPreKeyMessage() Unable to repair session with parrot@atalk.sytes.net:889121650
    org.jivesoftware.smackx.omemo.exceptions.CorruptedOmemoKeyException: org.whispersystems.libsignal.InvalidKeyException: Invalid signature on device key!
        at org.jivesoftware.smackx.omemo.signal.SignalOmemoService.processBundle(SignalOmemoService.java:107)
        at org.jivesoftware.smackx.omemo.signal.SignalOmemoService.processBundle(SignalOmemoService.java:48)
        at org.jivesoftware.smackx.omemo.OmemoService.buildFreshSessionWithDevice(OmemoService.java:803)
        at org.jivesoftware.smackx.omemo.OmemoService.repairBrokenSessionWithPreKeyMessage(OmemoService.java:1335)
        at org.jivesoftware.smackx.omemo.OmemoService.onOmemoMessageStanzaReceived(OmemoService.java:1213)
        at org.jivesoftware.smackx.omemo.OmemoManager$3.run(OmemoManager.java:959)
        at java.lang.Thread.run(Thread.java:919)
     Caused by: org.whispersystems.libsignal.InvalidKeyException: Invalid signature on device key!
        at org.whispersystems.libsignal.SessionBuilder.process(SessionBuilder.java:176)
        at org.jivesoftware.smackx.omemo.signal.SignalOmemoService.processBundle(SignalOmemoService.java:104)
        at org.jivesoftware.smackx.omemo.signal.SignalOmemoService.processBundle(SignalOmemoService.java:48) 
        at org.jivesoftware.smackx.omemo.OmemoService.buildFreshSessionWithDevice(OmemoService.java:803) 
        at org.jivesoftware.smackx.omemo.OmemoService.repairBrokenSessionWithPreKeyMessage(OmemoService.java:1335) 
        at org.jivesoftware.smackx.omemo.OmemoService.onOmemoMessageStanzaReceived(OmemoService.java:1213) 
        at org.jivesoftware.smackx.omemo.OmemoManager$3.run(OmemoManager.java:959) 
        at java.lang.Thread.run(Thread.java:919) 
2020-11-06 07:41:42.406 30292-30897/org.atalk.android W/g.atalk.androi: Long monitor contention with owner Smack DefaultReactor Thread #1 (30898) at void org.jivesoftware.smack.SmackReactor$Reactor.handleScheduledActionsOrPerformSelect()(SmackReactor.java:214) waiters=0 in void org.jivesoftware.smack.SmackReactor$Reactor.handleScheduledActionsOrPerformSelect() for 89.661s
2020-11-06 07:41:45.253 30292-30912/org.atalk.android D/SMACK: RECV (0):

========== aTalk debug log on Device-B, when sending Omemo from A to B ===========
2020-11-06 08:11:21.089 13978-14158/org.atalk.android D/SMACK: RECV (0): 
    <message xml:lang='en' to='parrot@atalk.sytes.net/atalk' from='swordfish@atalk.sytes.net/atalk' type='chat' id='160462133981687408636'>
      <encrypted xmlns='eu.siacs.conversations.axolotl'>
        <header sid='1245216054'>
          <key prekey='true' rid='889121650'>
            MwgWEiEFTebonccySzdVVtUd+jAx6AZBNo6IG/xGwiWtGFidawkaIQUETcZUJlarV4gQ0nbKoR89KrAsOvH3Z12+HT+QgMEKAyJiMwohBSz0hfVRT/wCvKFLD0R0gsqnFczTLdsVgwBXi/j8yxYsEAUYACIwAWHNYNdGtOLKSi8r7gk2XgrX6ZTh6HOgqmqwPXRSlknNuJpjEaj4nXbYmTrq2oxw6akzIgseQU8oADAB
          </key>
          <key prekey='true' rid='1566361092'>
            MwgHEiEFhtyu/1UhIVN+1rRlsno1zE5R+9h/EUrkZ1+zR4/bgkMaIQUmUxvniJpOFw5kKmJ0pnBnPcpyMwNl1LMi1S+K5Bu+aiJiMwohBTNL0NPp+QPHblAmzmThNQDlZkAwCH4hNW0twicj0sdqEAQYACIw8Lgu0HUEQPtZuBaWAoLD47b6kQY//QrbfC3UTHk5sj3eXkqRtU+7Ub8GC9Mo03NuEu65etoLCgUoADAB
          </key>
          <key prekey='true' rid='522622186'>
            MwgwEiEF8ayvQPO2mfQ/7N8FvC1Kz/W4y+SNUa+dvaTpe7eCQ0AaIQUmUxvniJpOFw5kKmJ0pnBnPcpyMwNl1LMi1S+K5Bu+aiJiMwohBV2F+ZHoUuYS7MMwqBufBlw9bRHTfAIV/yKZzSd4yKgSEAAYACIwJ4fK+rqyxZeeZPCN+bSs/TzqXI84WtA6uiUdfGl7gelF/UsNPsza+EZJ5NR+bFVv6CwbNQJ/2hMoADAB
          </key>
          <iv>
            w/bktiSCTQoFxRgM
          </iv>
        </header>
        <payload>
          oL8=
        </payload>
      </encrypted>
      <store xmlns='urn:xmpp:hints'/>
      <encryption xmlns='urn:xmpp:eme:0' namespace='eu.siacs.conversations.axolotl' name='OMEMO'/>
      <origin-id xmlns='urn:xmpp:sid:0' id='RXQI-8KSF-AHRZ-7'/>
      <request xmlns='urn:xmpp:receipts'/>
      <active xmlns='http://jabber.org/protocol/chatstates'/>
      <body>
        I sent you an OMEMO encrypted message but your client doesn&apos;t seem to support that. Find more information on https://conversations.im/omemo
      </body>
    </message>
2020-11-06 08:11:21.103 13978-14157/org.atalk.android D/SMACK: SENT (0): 
    <message to='swordfish@atalk.sytes.net/atalk' type='chat'>
      <received xmlns='urn:xmpp:receipts' id='160462133981687408636'/>
      <origin-id xmlns='urn:xmpp:sid:0' id='CU8J-B2BG-B7RD-U'/>
    </message>
2020-11-06 08:11:21.113 13978-14961/org.atalk.android W/aTalk: [4942] org.jivesoftware.smackx.omemo.OmemoRatchet.retrieveMessageKeyAndAuthTag() Received message from swordfish@atalk.sytes.net:1245216054 contained unknown identityKey. Ignore message.
    org.jivesoftware.smackx.omemo.exceptions.UntrustedOmemoIdentityException: Untrusted OMEMO Identity encountered:
    Fingerprint of trusted key:
    7ab3fae4 268332bf 26f7503d 9caa5c8f 5ce40a8d 64a4d2bd e6817b97 ac7d3038
    Fingerprint of untrusted key:
    044dc654 2656ab57 8810d276 caa11f3d 2ab02c3a f1f7675d be1d3f90 80c10a03
        at org.jivesoftware.smackx.omemo.signal.SignalOmemoRatchet.doubleRatchetDecrypt(SignalOmemoRatchet.java:97)
        at org.jivesoftware.smackx.omemo.OmemoRatchet.retrieveMessageKeyAndAuthTag(OmemoRatchet.java:107)
        at org.jivesoftware.smackx.omemo.OmemoService.decryptMessage(OmemoService.java:457)
        at org.jivesoftware.smackx.omemo.OmemoService.onOmemoMessageStanzaReceived(OmemoService.java:1192)
        at org.jivesoftware.smackx.omemo.OmemoManager$3.run(OmemoManager.java:959)
        at java.lang.Thread.run(Thread.java:764)
2020-11-06 08:11:21.115 13978-14961/org.atalk.android W/aTalk: [4942] org.jivesoftware.smackx.omemo.OmemoService.onOmemoMessageStanzaReceived() Could not decrypt incoming message: 
    org.jivesoftware.smackx.omemo.exceptions.CryptoFailedException: Transported key could not be decrypted, since no suitable message key was provided. Provides keys: [889121650, 1566361092, 522622186]
        at org.jivesoftware.smackx.omemo.OmemoRatchet.retrieveMessageKeyAndAuthTag(OmemoRatchet.java:127)
        at org.jivesoftware.smackx.omemo.OmemoService.decryptMessage(OmemoService.java:457)
        at org.jivesoftware.smackx.omemo.OmemoService.onOmemoMessageStanzaReceived(OmemoService.java:1192)
        at org.jivesoftware.smackx.omemo.OmemoManager$3.run(OmemoManager.java:959)
        at java.lang.Thread.run(Thread.java:764)