The options below have ceased to exist in the higher versions 2.8.1 buld 902.
Options that no longer exist:
=> File
- Preferences
- Log out
- Log out with reason
- Go out
=> Change Status message
=> In the spark icon
- Open
- Status
- Go out
To close the program just by opening the windows manager and closing spark.
As attached image.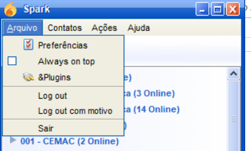 Spark developers, do you intend to return these options or is there a parameter in the configuration file that can be activated?
Because the way it turned out, administrators or end users are unable to configure spark as needed.
Thanks.