Hi Openfire Team,
Recently, we have upgraded from Openfire 3.6.4 to Openfire 3.7.1 which is on Centos 5.3. After, upgrade we had found that Java Heap memory was increased to 90%. (FYI, earlier, before upgrade the Java Heap Memory utilization was 75%).
One more observation was that, our Phyiscal Memory utilization came down to 50% after upgrade ( Before upgrade, our Physical Memory Utilization was 96%).
As the Java-Heap-Memory is utilized upto 90%, we thought of increasing the Heap memory parameter in "/etc/sysconfig/openfire". We have increased Java-Heap-Memory from 2048 to 3072.
But, after changing the Java-heap-memory to "3072" and restarting the server. we have found a drastic decrease of Java-heap-memory to 1024mb.
Can you please explain the reason behind this sudden change. Also, can you help us out in acheiving 3Gb memory.
FYI, we have a total of 8GB RAM in our Machine.
Heap Memory settings Before:
OPENFIRE_OPTS="-Xms2048m -Xmx2048m -Xss128k -Xoss128k -XX:ThreadStackSize=128"
Heap Memory settings After:
OPENFIRE_OPTS="-Xms3072m -Xmx3072m -Xss128k -Xoss128k -XX:ThreadStackSize=128"
Kindly find the attached log files.
Thanks & Regards,
A.H.V.K. Mouli
error.log.zip (4323 Bytes)
warn.log.zip (11406 Bytes)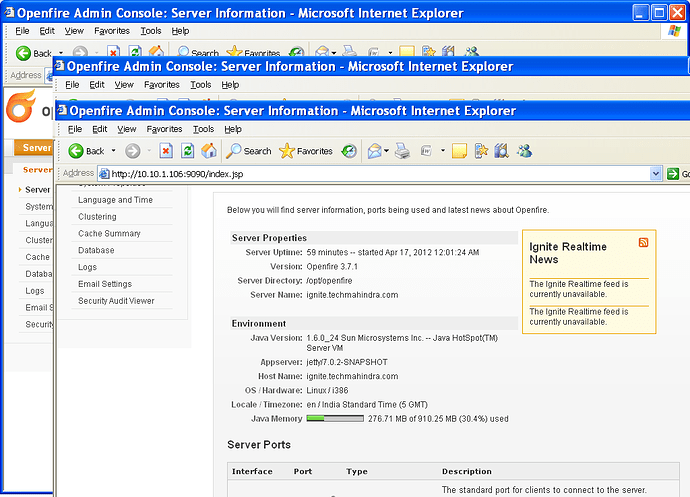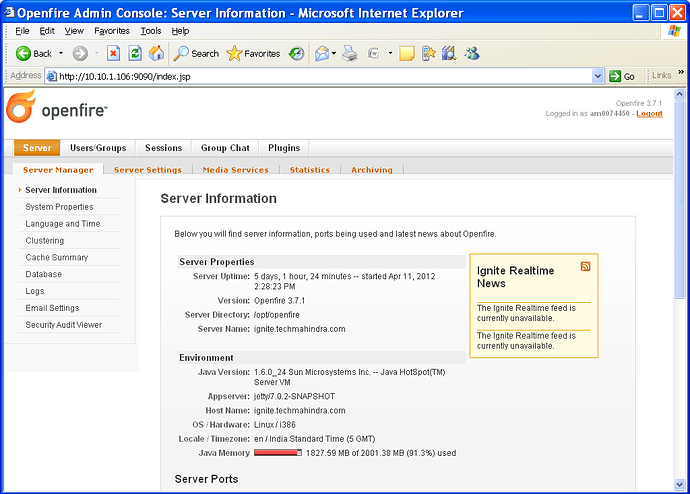 nohup.out.zip
(236 Bytes)