There are no images in the plugin Monitoring Service.
The path to the image:
/plugins/monitoring/graph?stat=sessions&sparkline=true&timeperiod=last60minutes&format=png
statistics - Monitoring Service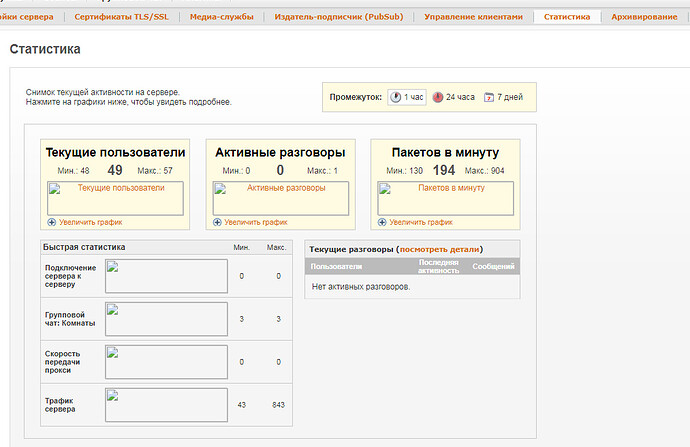 HTTP ERROR 500 java.lang.NoClassDefFoundError: Could not initialize class sun.awt.image.IntegerInterleavedRaster
URI:	/plugins/monitoring/graph
STATUS:	500
MESSAGE:	java.lang.NoClassDefFoundError: Could not initialize class sun.awt.image.IntegerInterleavedRaster
SERVLET:	PluginServlet
CAUSED BY:	java.lang.NoClassDefFoundError: Could not initialize class sun.awt.image.IntegerInterleavedRaster
Caused by:
java.lang.NoClassDefFoundError: Could not initialize class sun.awt.image.IntegerInterleavedRaster
	at java.awt.image.Raster.createPackedRaster(Unknown Source)
	at java.awt.image.Raster.createPackedRaster(Unknown Source)
	at java.awt.image.DirectColorModel.createCompatibleWritableRaster(Unknown Source)
	at java.awt.image.BufferedImage.<init>(Unknown Source)
	at org.jfree.chart.JFreeChart.createBufferedImage(JFreeChart.java:1407)
	at org.jivesoftware.openfire.reporting.graph.GraphEngine.generateGraph(GraphEngine.java:110)
	at org.jivesoftware.openfire.reporting.graph.GraphServlet.service(GraphServlet.java:133)
	at javax.servlet.http.HttpServlet.service(HttpServlet.java:790)
	at org.jivesoftware.openfire.container.PluginServlet.handleServlet(PluginServlet.java:486)
	at org.jivesoftware.openfire.container.PluginServlet.service(PluginServlet.java:127)
	at javax.servlet.http.HttpServlet.service(HttpServlet.java:790)
	at org.eclipse.jetty.servlet.ServletHolder$NotAsync.service(ServletHolder.java:1459)
	at org.eclipse.jetty.servlet.ServletHolder.handle(ServletHolder.java:799)
	at org.eclipse.jetty.servlet.ServletHandler$ChainEnd.doFilter(ServletHandler.java:1626)
	at org.jivesoftware.admin.PluginFilter.doFilter(PluginFilter.java:226)
	at org.eclipse.jetty.servlet.FilterHolder.doFilter(FilterHolder.java:193)
	at org.eclipse.jetty.servlet.ServletHandler$Chain.doFilter(ServletHandler.java:1601)
	at org.jivesoftware.admin.AuthCheckFilter.doFilter(AuthCheckFilter.java:234)
	at org.eclipse.jetty.servlet.FilterHolder.doFilter(FilterHolder.java:193)
	at org.eclipse.jetty.servlet.ServletHandler$Chain.doFilter(ServletHandler.java:1601)
	at com.opensymphony.sitemesh.webapp.SiteMeshFilter.obtainContent(SiteMeshFilter.java:129)
	at com.opensymphony.sitemesh.webapp.SiteMeshFilter.doFilter(SiteMeshFilter.java:77)
	at org.eclipse.jetty.servlet.FilterHolder.doFilter(FilterHolder.java:201)
	at org.eclipse.jetty.servlet.ServletHandler$Chain.doFilter(ServletHandler.java:1601)
	at org.eclipse.jetty.servlet.ServletHandler.doHandle(ServletHandler.java:548)
	at org.eclipse.jetty.server.handler.ScopedHandler.handle(ScopedHandler.java:143)
	at org.eclipse.jetty.security.SecurityHandler.handle(SecurityHandler.java:602)
	at org.eclipse.jetty.server.handler.HandlerWrapper.handle(HandlerWrapper.java:127)
	at org.eclipse.jetty.server.handler.ScopedHandler.nextHandle(ScopedHandler.java:235)
	at org.eclipse.jetty.server.session.SessionHandler.doHandle(SessionHandler.java:1624)
	at org.eclipse.jetty.server.handler.ScopedHandler.nextHandle(ScopedHandler.java:233)
	at org.eclipse.jetty.server.handler.ContextHandler.doHandle(ContextHandler.java:1434)
	at org.eclipse.jetty.server.handler.ScopedHandler.nextScope(ScopedHandler.java:188)
	at org.eclipse.jetty.servlet.ServletHandler.doScope(ServletHandler.java:501)
	at org.eclipse.jetty.server.session.SessionHandler.doScope(SessionHandler.java:1594)
	at org.eclipse.jetty.server.handler.ScopedHandler.nextScope(ScopedHandler.java:186)
	at org.eclipse.jetty.server.handler.ContextHandler.doScope(ContextHandler.java:1349)
	at org.eclipse.jetty.server.handler.ScopedHandler.handle(ScopedHandler.java:141)
	at org.eclipse.jetty.server.handler.ContextHandlerCollection.handle(ContextHandlerCollection.java:191)
	at org.eclipse.jetty.server.handler.HandlerCollection.handle(HandlerCollection.java:146)
	at org.eclipse.jetty.server.handler.HandlerWrapper.handle(HandlerWrapper.java:127)
	at org.eclipse.jetty.server.Server.handle(Server.java:516)
	at org.eclipse.jetty.server.HttpChannel.lambda$handle$1(HttpChannel.java:388)
	at org.eclipse.jetty.server.HttpChannel.dispatch(HttpChannel.java:633)
	at org.eclipse.jetty.server.HttpChannel.handle(HttpChannel.java:380)
	at org.eclipse.jetty.server.HttpConnection.onFillable(HttpConnection.java:277)
	at org.eclipse.jetty.io.AbstractConnection$ReadCallback.succeeded(AbstractConnection.java:311)
	at org.eclipse.jetty.io.FillInterest.fillable(FillInterest.java:105)
	at org.eclipse.jetty.io.ChannelEndPoint$1.run(ChannelEndPoint.java:104)
	at org.eclipse.jetty.util.thread.strategy.EatWhatYouKill.runTask(EatWhatYouKill.java:338)
	at org.eclipse.jetty.util.thread.strategy.EatWhatYouKill.doProduce(EatWhatYouKill.java:315)
	at org.eclipse.jetty.util.thread.strategy.EatWhatYouKill.tryProduce(EatWhatYouKill.java:173)
	at org.eclipse.jetty.util.thread.strategy.EatWhatYouKill.run(EatWhatYouKill.java:131)
	at org.eclipse.jetty.util.thread.ReservedThreadExecutor$ReservedThread.run(ReservedThreadExecutor.java:386)
	at org.eclipse.jetty.util.thread.QueuedThreadPool.runJob(QueuedThreadPool.java:883)
	at org.eclipse.jetty.util.thread.QueuedThreadPool$Runner.run(QueuedThreadPool.java:1034)
	at java.lang.Thread.run(Unknown Source)
What version of Openfire, the Monitoring Service plugin and Java are you using?
Openfire 4.7.4
Monitoring Service 2.4.1
java -version
openjdk version "1.8.0_212"
OpenJDK Runtime Environment (build 1.8.0_212-b04)
OpenJDK 64-Bit Server VM (build 25.212-b04, mixed mode)
Tried it in different browsers(Chrome, Yandex, Firefox)
How are you starting Openfire?
Whilst researching this, I've seen a report or two on the web that the thumbnail library isn't available to "manually run" applications, only to headless ones.
The only other avenue I saw was Oracle Vs OpenJDK. I've not seen any reports from users complaining that OpenJDK has any problems, so would be v keen to know if you're the first!