Hi all,
I am trying to connect to a SQL Server Database to host OpenFire Users, etc. For this I have followed the instructions at Openfire: Database Installation Guide . I have created the Database and user. The database is called OpenFireDB and the login and user are both called OpenFireUser.
I then go to localhost:9090 to configure the database connection. Here is a screen of what this looks like: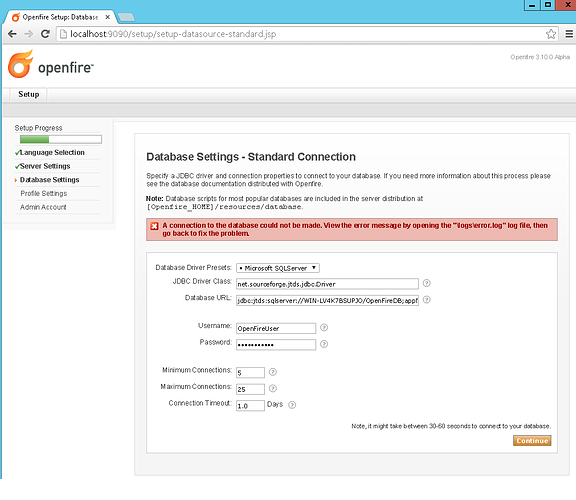 Specifically, the Database URL looks like this: jdbc:jtds:sqlserver://WIN-LV4K7BSUPJO/OpenFireDB;appName=jive, where WIN-LV4K7BSUPJO is the server (localhost, in this case).
The error log looks like this:
2014.09.24 21:17:10 org.jivesoftware.database.DbConnectionManager - Network error IOException: Connection refused: connect
java.sql.SQLException: Network error IOException: Connection refused: connect
at net.sourceforge.jtds.jdbc.ConnectionJDBC2.(ConnectionJDBC2.java:385)
at net.sourceforge.jtds.jdbc.ConnectionJDBC3.(ConnectionJDBC3.java:50)
at net.sourceforge.jtds.jdbc.Driver.connect(Driver.java:182)
at java.sql.DriverManager.getConnection(Unknown Source)
at java.sql.DriverManager.getConnection(Unknown Source)
at org.logicalcobwebs.proxool.DefaultConnectionBuilder.buildConnection(DefaultConn ectionBuilder.java:39)
at org.logicalcobwebs.proxool.Prototyper.buildConnection(Prototyper.java:159)
at org.logicalcobwebs.proxool.ConnectionPool.getConnection(ConnectionPool.java:211 )
at org.logicalcobwebs.proxool.ProxoolDriver.connect(ProxoolDriver.java:89)
at java.sql.DriverManager.getConnection(Unknown Source)
at java.sql.DriverManager.getConnection(Unknown Source)
at org.jivesoftware.database.DefaultConnectionProvider.getConnection(DefaultConnec tionProvider.java:86)
at org.jivesoftware.database.DbConnectionManager.setConnectionProvider(DbConnectio nManager.java:616)
at org.jivesoftware.openfire.admin.setup.setup_002ddatasource_002dstandard_jsp._js pService(setup_002ddatasource_002dstandard_jsp.java:206)
at org.apache.jasper.runtime.HttpJspBase.service(HttpJspBase.java:97)
at javax.servlet.http.HttpServlet.service(HttpServlet.java:790)
at org.eclipse.jetty.servlet.ServletHolder.handle(ServletHolder.java:738)
at org.eclipse.jetty.servlet.ServletHandler$CachedChain.doFilter(ServletHandler.ja va:1651)
at com.opensymphony.module.sitemesh.filter.PageFilter.parsePage(PageFilter.java:11 8)
at com.opensymphony.module.sitemesh.filter.PageFilter.doFilter(PageFilter.java:52)
at org.eclipse.jetty.servlet.ServletHandler$CachedChain.doFilter(ServletHandler.ja va:1639)
at org.jivesoftware.util.LocaleFilter.doFilter(LocaleFilter.java:74)
at org.eclipse.jetty.servlet.ServletHandler$CachedChain.doFilter(ServletHandler.ja va:1639)
at org.jivesoftware.util.SetCharacterEncodingFilter.doFilter(SetCharacterEncodingF ilter.java:50)
at org.eclipse.jetty.servlet.ServletHandler$CachedChain.doFilter(ServletHandler.ja va:1639)
at org.jivesoftware.admin.PluginFilter.doFilter(PluginFilter.java:78)
at org.eclipse.jetty.servlet.ServletHandler$CachedChain.doFilter(ServletHandler.ja va:1639)
at org.jivesoftware.admin.AuthCheckFilter.doFilter(AuthCheckFilter.java:164)
at org.eclipse.jetty.servlet.ServletHandler$CachedChain.doFilter(ServletHandler.ja va:1631)
at org.eclipse.jetty.servlet.ServletHandler.doHandle(ServletHandler.java:549)
at org.eclipse.jetty.server.handler.ScopedHandler.handle(ScopedHandler.java:143)
at org.eclipse.jetty.security.SecurityHandler.handle(SecurityHandler.java:568)
at org.eclipse.jetty.server.session.SessionHandler.doHandle(SessionHandler.java:22 1)
at org.eclipse.jetty.server.handler.ContextHandler.doHandle(ContextHandler.java:11 11)
at org.eclipse.jetty.servlet.ServletHandler.doScope(ServletHandler.java:478)
at org.eclipse.jetty.server.session.SessionHandler.doScope(SessionHandler.java:183 )
at org.eclipse.jetty.server.handler.ContextHandler.doScope(ContextHandler.java:104 5)
at org.eclipse.jetty.server.handler.ScopedHandler.handle(ScopedHandler.java:141)
at org.eclipse.jetty.server.handler.ContextHandlerCollection.handle(ContextHandler Collection.java:199)
at org.eclipse.jetty.server.handler.HandlerCollection.handle(HandlerCollection.jav a:109)
at org.eclipse.jetty.server.handler.HandlerWrapper.handle(HandlerWrapper.java:97)
at org.eclipse.jetty.server.Server.handle(Server.java:462)
at org.eclipse.jetty.server.HttpChannel.handle(HttpChannel.java:279)
at org.eclipse.jetty.server.HttpConnection.onFillable(HttpConnection.java:232)
at org.eclipse.jetty.io.AbstractConnection$2.run(AbstractConnection.java:534)
at org.eclipse.jetty.util.thread.QueuedThreadPool.runJob(QueuedThreadPool.java:607 )
at org.eclipse.jetty.util.thread.QueuedThreadPool$3.run(QueuedThreadPool.java:536)
at java.lang.Thread.run(Unknown Source)
Caused by: java.net.ConnectException: Connection refused: connect
at java.net.DualStackPlainSocketImpl.connect0(Native Method)
at java.net.DualStackPlainSocketImpl.socketConnect(Unknown Source)
at java.net.AbstractPlainSocketImpl.doConnect(Unknown Source)
at java.net.AbstractPlainSocketImpl.connectToAddress(Unknown Source)
at java.net.AbstractPlainSocketImpl.connect(Unknown Source)
at java.net.PlainSocketImpl.connect(Unknown Source)
at java.net.SocksSocketImpl.connect(Unknown Source)
at java.net.Socket.connect(Unknown Source)
at sun.reflect.GeneratedMethodAccessor5.invoke(Unknown Source)
at sun.reflect.DelegatingMethodAccessorImpl.invoke(Unknown Source)
at java.lang.reflect.Method.invoke(Unknown Source)
at net.sourceforge.jtds.jdbc.SharedSocket.createSocketForJDBC3(SharedSocket.java:3 04)
at net.sourceforge.jtds.jdbc.SharedSocket.(SharedSocket.java:255)
at net.sourceforge.jtds.jdbc.ConnectionJDBC2.(ConnectionJDBC2.java:310)
… 47 more