Lately, I have stared to use Spark client again alongside Skype for Business which I use daily for my professional work. My renewed interest in Spark came initially to have a look at the hard work @wroot, @guus and the rest of the igniterealtime community had put into Spark 2.8.1 and also to access the chat rooms at igniterealtime, especially the IRF.
I use Openfire Meetings myself from time to time and had developed a basic plugin for Spark that allows users to join audio and video conferences hosted by Openfire Meetings. See the documentation for more details. It provides a button from a Multi User Chat (MUC) room or chat window within the Spark client, to open a Chrome window using the same URL as the Jitsi Meet web client. It therefore assumes you have Chrome installed and configured as your** default browser.** It works, but the user experience is not ideal.
I had done some work with Java Chrome Embedded Framework (java-cef) a while back and decided to use it directly instead of depending on Chrome installed and configured as the default browser. I spent my weekend working on it and this what I have to show for my effort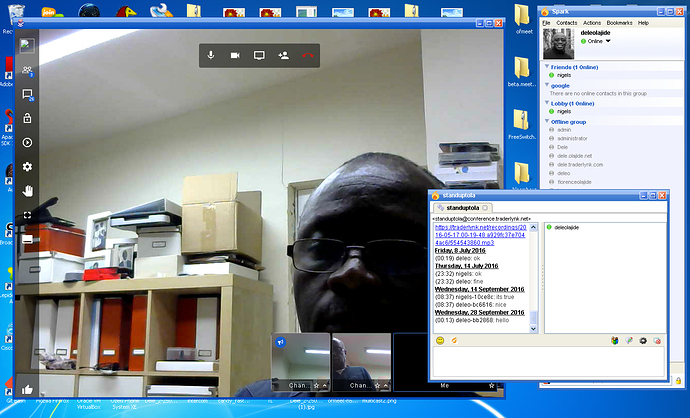 It is a much better user experience than opening a Chrome browser window out of context somewhere else. Like everything in life, there is a price to pay. It does not do screen sharing and does not work on OSX. (don't know how to configure java-cef for OSX). I have tested it at home on my windows win32 desktop and will test it tomorrow at work on my win64 desktop. I would appreciate any feedback from Linux users.
The source code is on the Ignite Realtime GitHub repo and PRs are welcome especially to make it work on Macs (OSX)
Update
I have given up on java-cef. The lack of current pre-built binaries and missing features like screen share makes it difficult to work with. Our UI expert at work suggested I tried Electron Atom instead. It proved to be very good advice. Whole screen sharing is now available. Desktop sharing and remote control to come later. You will need Openfire Meetings 0.3.28 and above to use it and the pre-built Electron run-time files are available for Windows, Linux and OSX unlike java-cef… Spark will take a take a minute or two to start after the plugin is deployed. Any feedback on OSX and Linux will be appreciated.
I am going to miss the potential of I could do with the tight Java integration, but with Chromedriver, a new world of JavaScript API development with Spark beckons.